1 Cent 1897 - Queen Victoria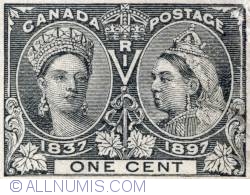 General Description :
From a pre-mail postcard
Original stamp was normally in orange color, perforation of 12, issue of 8,000,000
Based on a painting by Alfred Edward Chalon
Based on a photograph by Alexander Bassano
Designed by Lyndwode Charles Pereira
Designed by Peleg Franklin Brownell
Artwork by Alfred Edward Chalon, "Queen Victoria", 1837
Two portraits of Queen Victoria 1837 and 1867. The portrait on the left is from a painting by Alfred Edward Chalon, R. A., and portrays Her Majesty on the occasion of the prorogation of Parliament on 17th July, 1837. This is the same portrait reproduced on the 12-pence Canadian stamp of 1851... Between the portraits on the stamps, the initials V.R.I. signify Victoria, Queen and Empress, and below are dates 1837 and 1897, the years of the Queen's accession and her Diamond Jubilee.
Stamp colour
Black and White
Stamp use
Cinderella stamp
Designer
Lyndwode Charles Pereira and Peleg Franklin Brownell
Printed by
American Bank Note Company, Ottawa
Catalog prices
No catalog prices set yet
Added by
Alaincoins
Views
928
If you feel that Allnumis is helping, you might consider a small donation using PayPal. Even $1 is welcomed! All the money will be for hosting. Thank you!