5¢ Elizabeth II 1954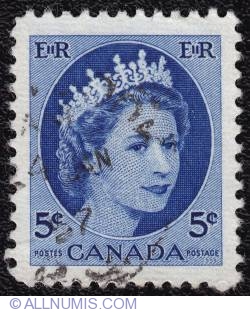 General Description :
To provide 5-cent stamps for the increased first class letter rate effective 1st April, 1954, the Department rushed supplies of the new design stamps for use on that day. The remaining denominations were issued on 19th June, 1954. The colours of the stamps are the same as those of the former issue portraying Her Majesty Queen Elizabeth II. Dorothy Wilding Portraits, Limited, supplied the photograph for reproduction. Portrait of Her Majesty Queen Elizabeth II.
Series
Monarchy, Queen Elizabeth II
Designer
Herman Herbert Schwartz
Printed by
Canadian Bank Note Company, Limited
Perforation
12, 9.5 Vertical
Catalog prices
No catalog prices set yet
Added by
Radu
Images by
Alaincoins
Views
1,047
If you feel that Allnumis is helping, you might consider a small donation using PayPal. Even $1 is welcomed! All the money will be for hosting. Thank you!